I am writing this sat in Nice airport waiting for a plane that leaves in 4 whole hours time, having hitched a 4:30am ride on the only car/boat/trailer combination heading in this direction from Hyères… they say that life on the campaign trail seems glamorous and it certainly can be, but this morning not so much!!
The last leg of the ISAF Sailing World Cup 2013-14 finished yesterday in Hyères, and I am heading back to the UK for 8 days after what has been a very busy month!
Shortly after my last update, I flew out to Palma, Mallorca for the penultimate World Cup event. It was my first major International event since I had to take over a month out of the boat after injuring my back out in Miami back in February.
The first day of Palma was odd. We sailed 3 races, and I felt like I had a terrible day. Results wise it certainly looked that way. So it was hard to get to grips with the fact that I had achieved all my little process goals. It was still very hard though. We sailed only one race on the following day, and then split into Gold and Silver fleets for finals. Usually the fleet is split into two halves, but in Palma they decided to make Gold fleet smaller. If they had split into halves as usual I would have been in Gold fleet, but they didn't, so I wasn't. It was the first time in 2 years that I haven't made an International Gold fleet.
It is always simple to know what to say when things are ticking along nicely, or if you have just posted a successful result. It is much harder to know what to say when it feels like things are all going wrong. I don't like excuses. When people ask what went wrong, the answer is simple, "Well, I didn't sail well enough." That said, it is important to rationalise in your mind exactly where things slipped up, so that it doesn't happen again. Between Palma and Hyères, I spent a week at home training, working out why what happened happened, and having some long overdue catch up time with friends and family.
I headed out to Hyères excited to get racing again…
We had an absolutely brilliant few days of training before the regatta started, with some amazing conditions. Sun, sea, wind and waves. As a sailor, you can't really ask for more than that!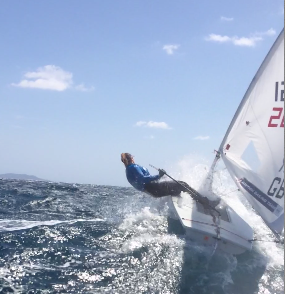 The 'champagne sailing conditions' continued into the regatta. I put together a good 2-day qualifying series, including three out of five top 5 race finishes, to go into the final series in 8th position overall. A solid first day of Gold fleet racing with a 17th and a 4th from the 2 races was enough to ensure I remained in 8th position.
The second, and penultimate, day of finals racing was a bit tricky. In the first race I got on the wrong side of a massive wind shift, which there was no real coming back from. I was sailing around at the back of the fleet with a lot of the overall leaders. It made me feel slightly better to know that I was at least in good company!! I dropped to 14th overall after that day of racing. After five days, the top 10 overall go into a non-discardable double point medal race, so I had one day to pull back up into the leading 10 boats. I had it in the back of my head that I had been posting medal race worthy results all week, but having dropped to 14th, I had given myself a lot to do on the last day of fleet racing. It wasn't impossible, but it was a tough ask!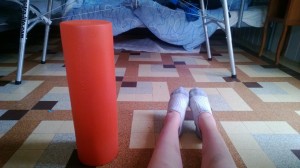 However, with a breezy day and big swell, I was over the moon to post two second places, the best day of the fleet, to climb back into 9th position overall and make the medal race cut. I have made medal races before but never at a World Cup event. It felt a huge honour to be medal racing on the final day with girls that I have reading about since I was a Youth sailor. A 7th place finish in the medal race moved me up to 8th overall. This also boosted me to number 19 in the World Rankings, 10 months after beginning full time sailing in June of last year.
Full time sailing sure is a rollercoaster ride, and you have to take the rough with the smooth. As clichéd as it sounds, it really is all worth it when everything comes together!